<! -- ========================== GROUP NAME ========================== ->
links
<! -- ========================== GROUP PEOPLE ========================== ->

<! -- ========================== GROUP PAGES/TABS ========================== ->
Beehive (SocialBlue) - overview
<! -- ========================== PAGE CONTENT ========================== ->

Beehive (later called SocialBlue) was an internal social networking site our team designed and then deployed within IBM's intranet. We designed Beehive to help employees make new connections, track current friends and coworkers, and renew contacts with people they have worked with in the past. Over 65,000 employees joined the site and our research focused on understanding motivations for using the site, impact on organizational social capital, and design of incentives to encourage participation. The site ran live inside of IBM from 2007 through 2011.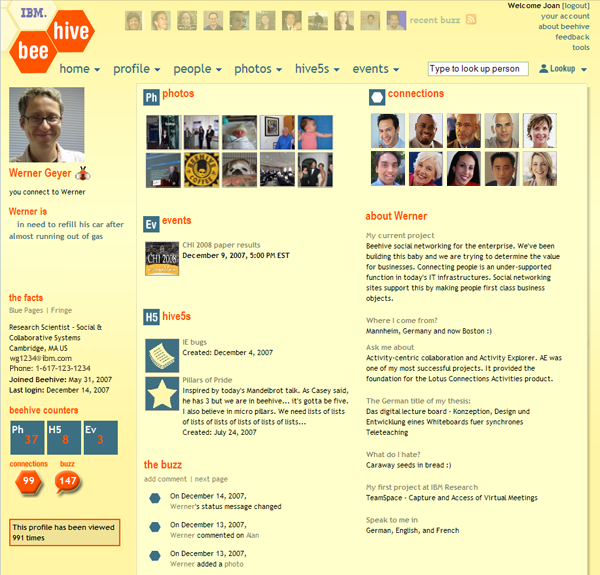 Overview of Beehive
Beehive is an internal social networking site that gives IBMers a "rich connection to the people they work with" on both a personal and a professional level. Beehive helps employees make new connections, track current friends and coworkers, and renew contacts with people they have worked with in the past. When employees join Beehive, they get a profile page. They can use the status message field and the free-form "About Me" section on their profile page to let other people at IBM know where they are, what they are doing, and what they are thinking. Beehive also lets them post photos, create lists to share their thoughts, and organize events.
For example, employees can find out what that team they spent late nights with a couple of years ago working towards a deadline, is up to now by checking out their profiles. They can see the latest pictures their ex-teammates have shared. The Beehive photo page shows the owner, title, and description of the photo, along with tags and comments people have exchanged about it. A photo
is
worth a thousand words -- it is a visual memory that can connect or reconnect people to their coworkers socially. Users can create top-five lists, called "hive fives," to share their thoughts on any topic they are passionate about. For example, they can add a "hive five" list that outlines their ideas about their project, and then invite their team members to "reuse" the list and voice their opinions. Hive fives cover a lot of territory, from clearly work-related subjects to the kinds of personal exchanges that might only happen among collocated team members at the water cooler. Hive fives are a light-weight way to share ideas and a great way to keep in touch with remote team members.
Beehive can also come in handy for upcoming conference calls. If users don't know the people on the call, they can go to their Beehive profiles beforehand and find out if they have common interests -- either work-related or recreational -- or if they have colleagues in common. Beehive is a quick way to figure out who a person is and what they spend their time doing.
If users are hosting an event, they can create an event page in Beehive and invite people to attend. The page can be a place to spread the buzz about the event and get people talking about it through the comments feature. It's also a handy place to keep track of who is invited and who's RSVPed, and to share photos and reminisce about the event afterward.
Research goals
The Beehive team created the site to help IBM employees meet the challenge of building the relationships vital to working in large, distributed enterprises today. The team is also exploring if Beehive can help IBMers discover people with common interests or the right skills for a project, whether learning more about someone -- either personally or professionally -- facilitates making contact, and to what extent it entices people to learn about ongoing projects and activities beyond their immediate team.
We have several research questions that range from social science, CSCW, HCI, to computer science. Among these are:
How do enterprise users use novel content types, such as free-form lists, to share with their co-workers?
Do incentive systems, such as points and status labels, influence the behavior of employees?
How can we engage users and sustain participation across a large and more diverse user community?
How can a social networking site best support employees in finding the people they are looking for and discovering the information they need?
How does usage differ across different populations (cultures, job categories, office environment)?
When a team uses social software for connecting and sharing, does that team have greater social capital?