<! -- ========================== GROUP NAME ========================== ->
links
<! -- ========================== GROUP PEOPLE ========================== -> <! -- ========================== GROUP PAGES/TABS ========================== ->
Storage Systems (discontinued) - overview
<! -- ========================== PAGE CONTENT ========================== ->
Storage Systems PIC
IBM Research has been conducting world-class research in Storage Systems for over half a century. We explore fundamental problems in storage devices, file systems and server software, as well as advanced storage management applications and solutions. The technologies we develop have been making significant contributions to the advacement of Computer Science as well as IBM's business in hardware/software products and service offerings.
History of Accomplishments

In 1956 IBM introduced the revolutionary 305 RAMAC system. It was the first computer to use a random-access disk drive—the 350 Disk Storage Unit—the progenitor of every hard disk drive made in the 58 years since. The 305 RAMAC system was developed by a team led by Reynold Johnson in the San Jose research lab he started (later became Almaden Research Center).
Prior to RAMAC, computer data was stored on punched cards and magnetic tape. Cards that could accidentally be damaged or destroyed. Tape that couldn't be accessed randomly. RAMAC was designed to overcome these limitations and change the way organizations thought about data—particularly accounting data.

The simplicity, low cost and low power consumption of dynamic random access memory (DRAM), when combined with the first low-cost microprocessors, opened the door to small personal computers. Today, every PC, notebook computer, game console and other computing device is loaded with DRAM chips. DRAM also powers mainframes, data center servers and most of the machines that run the Internet. IBM Fellow Robert Dennard was awarded the US National Medal of Technology in 1988 by President Ronald Reagan for his invention of DRAM.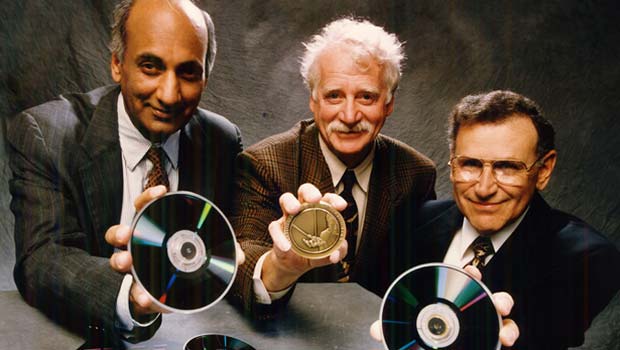 In 1972, three IBM scientists working out of the Thomas J. Watson Research Center in Yorktown, NY, found a combination of two common minerals and a rare earth element that could be easily and repeatedly magnetized to accept large volumes of computer data at high speeds.
In 1995, US President Bill Clinton awarded the inventors, Praveen Chaudhari, Jerome J. Cuomo and Richard J. Gambino, the National Medal of Technology—America's highest honor for technical innovation.
Other Accomplishments
We have also contributed to major storage industry products and standards, such as IBM 9337 RAID subsystem, Tivoli Storage Manager, General Parallel File System (GPFS), iSCSI and iSER.
Current Focus
Most recently, technology developed by Storage Systems research is being used in a number of highly impactful products and service offerings: IBM Enterprise Disk Storage and in IBM System Storage Virtualization products: IBM SAN Volume Controller and IBM TotalStorage Productivity Center.
Future Vision
Our goal is to continue to build innovative storage systems that leverage high-speed network protocols, centralize storage management, provide enhanced policy-based storage management functions and dramatically reduce storage management costs. In addition, we strive to develop systems and solutions that make data sharing across heterogeneous platforms easier to perform, support new applications and requirements such as regulatory compliance, provide incremental scalability that can handle petabytes of data and ensure high system availability and reliability.
IBM Computer Science Storage System Research is distributed worldwide across the following IBM research labs: