<! -- ========================== GROUP NAME ========================== ->
links
<! -- ========================== GROUP PEOPLE ========================== -> <! -- ========================== GROUP PAGES/TABS ========================== ->
Smarter Cities: Analytics, Sensing, Communications, Incentives for Livability and Efficiency - overview
<! -- ========================== PAGE CONTENT ========================== ->
IBM Research has a number of projects applying the principles of instrumentation, interconnection and intelligence as part of an infrastructure for decision-making by government agencies, utilities, businesses, property-owners, residents and visitors in an urban environment.
These projects are mostly being carried out through a set of experiments with cities and university partners throughout the world, and are exploring new classes of functions that can become part of the IBM Intelligent Cities portfolio of solutions and the IBM Global Services offerings for cities and utilities.
To see IBM's Point of View and current offerings, please start at Smarter Cities. Information Agenda Solutions for Government is also relevant. If you prefer a 6-minute video, see Building Smarter Cities. For an August 2013 BBC Story about this work, please see Tomorrow's cities: Do you want to live in a smart city?.
In IBM's December 2013 5 In 5 (5 predictions likely to materialize within 5 years), we articulated how The City Will Help You Live In It and shared a quick to scan infographic.
For information about the portfolio of IBM Research projects, please be in touch with Eleni Pratsini (ELENIP@ie.ibm.com).
IBM Research - Africa, one of whose research topics is Smarter Cities, was announced in August 2012, with the first location now operational in Nairobi, Kenya.
An overview of our work on Sentient and Cognitive Cities led by our Brazil lab is available.
On June 18-22, 2012, we participated in the 2nd workshop on Pervasive Urban Applications (PURBA 2012) associated with the 10th International Conference on Pervasive Computing, in Newcastle UK
In June 2012, IBM Research, Vodafone, and Ulasim AS launched the Insights In Motion - Istanbul Hareket Halinde project to improve public transportation in Istanbul through collecting data about actual travel routes taken by citizens. See 2 minute video.
On June 4th, 2012 we organized the 1st When the City Meets the Citizen Workshop (WCMCW) held at the International Conference on Weblogs and Social Media (ICWSM) in Dublin.
On April 10, 2012, with 7 Universities and the Government of Canada, and the Government of Ontario,we announced the formation of IBM Canada Research and Development Centre, one of whose focus areas will be Smarter Cities
On October 26-27, 2011, we hosted a colloqium on the Science of Cities at our Dublin R&D Center.
One of the exploratory philosophies guiding our experiments is looking at software which is a system of systems: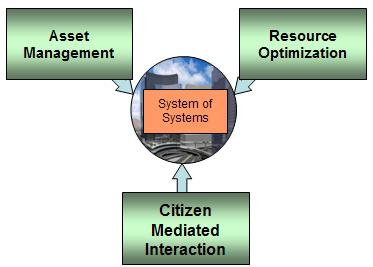 We also provide advice to, and collaborate with, a number of university level research institutes focused on Smarter Cities.
For information about the experiments in specific cities, please see the following press releases and case studies:
For information about projects focused on services, please see the following pages:
For information about projects focused on solution platforms, please see the following pages:
For information about work on Analysis of Urban Dynamics, see:
For the work which is now in an IBM offering on City Planning and Operations across agencies and departments, see:
For information about projects focused on Building Energy Efficiency, please see
Energy Innovation Hub research led by the Pennsylvania State University for the Greater Philadelphia Innovation Cluster (GPIC) for Energy Efficient Buildings, funded by the U. S. Department of Energy up to $129M over 5 years.
IBM Research is participating in a partnership announced by New York City Mayor Bloomberg and the NYC Economic Development Corporation with Columbia University, CUNY, and NYU for research collaboration to help address New York City's energy challenges.
[others to be added].
For information about projects related to traffic and transportation, please see
For information about projects related to water, please see
Some of our approaches are now available through third party solutions and service providers.
Water Metering Analytics
We developed advanced analytics methods to support operational aspects of water utilities. We use machine learning technology to identify anomalies in meter data, including:

For zero consumption, distinguishing between legitimate (e.g., family on vacation) and illegitimate (e.g., malfunction) causes.
Identifying leaks in the common areas of buildings (outside the scope of any single meter).

See the Arad Group Press release - Dec 2012
For information about projects related to public safety and emergency planning, please see
For information about projects related to citizen quality of life and resource conservation, please see
Citizen to City Mobile Communication in Arlington, Virginia, jointly developed with Virginia Tech YouTube
Water and Power Conservation in Dubuque, Iowa - Press Release
IBM Research is also participating in a number of cross-disciplinary efforts to scope the emerging field of computational urban science. A list of the activities we participate in includes:
IBM Research participates in cross-disciplinary efforts to scope the emerging field of computational urban science:
Many IBM Researchers contributed articles to the IBM Journal of Research and Development issue on Smarter Cities, Vol 55, Issues 1 and 2, which can be found via this IEEE Explore entry.
To understand how our Smarter Cities work forms one central pillar of, and also complements our other Research thrusts on, significant opportunities and challenges, take a look at the 40-page IBM Research overview. (Accessible version)