<! -- ========================== GROUP NAME ========================== ->
links
<! -- ========================== GROUP PEOPLE ========================== -> <! -- ========================== GROUP PAGES/TABS ========================== ->
Spoken Web - overview
<! -- ========================== PAGE CONTENT ========================== ->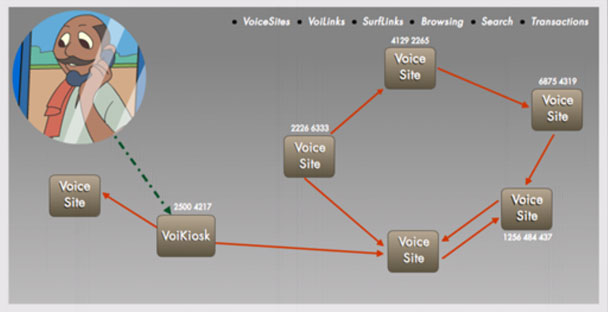 Spoken Web (a.k.a World Wide Telecom Web or Telecom Web) is a technology to enable the illiterate and the underprivileged with the power of information by using mobile phones (since its well known that mobile phone penetration is much more than computer/internet penetration in developing countries and ~70% of the people of the world don't/can't access internet).

This is a system for creating and accessing 'VoiceSites' (analogous to WebSites), VoiLinks (analogous to hyperlinks) etc. to potentially create a 'spoken' network of information. A VoiceSite can be accessed through any phone (even a landline) without a need to own a computer or knowing how to read and write. Spoken Web has been deployed through several pilots in different parts of the world with tens of thousands of users using the system.

Though primarily meant for the under-served in population in emerging economies, it has several applications for the developed world as well.


Team
Sheetal K. Agarwal
Jyoti Grover
Anupam Jain
Ajith K Jujjuru
Arun Kumar
Priyanka Manwani
Sougata Mukherjea
Amit A. Nanavati
Nitendra Rajput
Shrey Sahay
Meghna Singh
Kundan Srivastava
Saurabh Srivastava
Jerome White
IBM Research - India