<! -- ========================== GROUP NAME ========================== ->
links
<! -- ========================== GROUP PEOPLE ========================== -> <! -- ========================== GROUP PAGES/TABS ========================== ->
Personal Mobile Hub - overview
<! -- ========================== PAGE CONTENT ========================== ->
Impact
Our work from 2002-2005 is described in the section below. The use of a smart phone (or equivalent that we created from the Linux Watch platform shown below) as a personal hub as first demonstrated by us is commonplace now. For example Apple Health connects a heart rate sensor built into an Apple iWatch to connect via Bluetooth to a smart phone and report the data to other destinations. Another example is an accessory made by AliveCor in the form of a wrist band, KardiaBand, that monitors heart rate data and triggers an electocardiogram based on measured readings. There are several examples of Bluetooth enabled weighing scales, blood pressure monitors, pedometers, glucometers, thermometers, breathalyzers, and sleep monitoring sensors that employ the three tier architecture, to gather and disseminate data, we described and demonstrated in 2002. Samsung Health, LG Health, Xiaomi, and Google Fit mirror some of the above use modalities and devices.
Personal Mobile Hub 2002-2005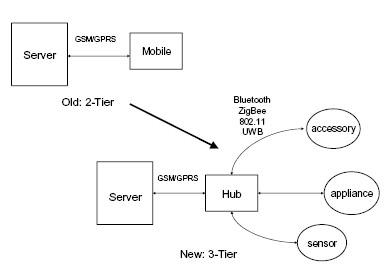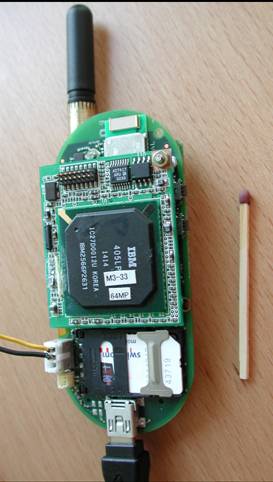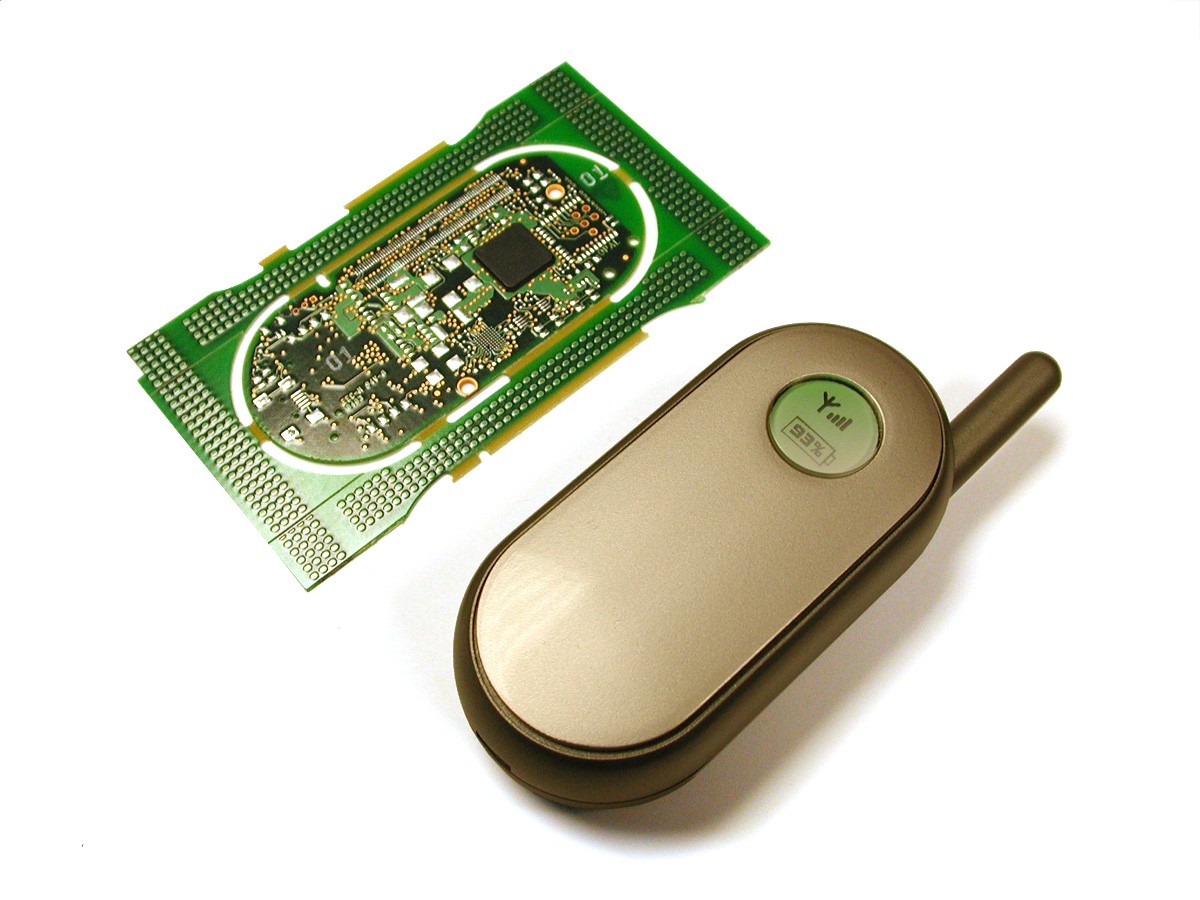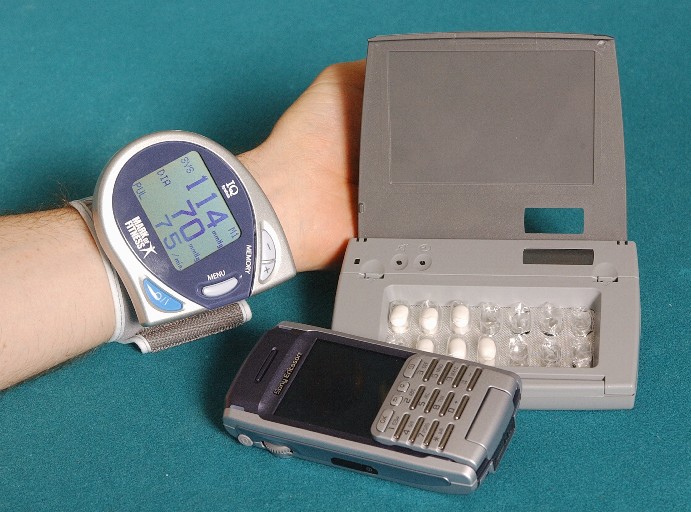 A personal mobile hub serves a gateway between body worn sensors, wrist watch computers and the internet. The IBM hub, demonstrated in 2002, is built from the Linux Watch platform, and includes both long and short range wireless connectivity. This three tier configuration allows the sensor designers to focus on ergonomics, aesthetics and accuracy instead of attempting to pack end to end functionality in the sensor unit. Clearly, the personal mobile hub can be shared between multiple body worn devices and allows the user to add more devices to his constellation over time. The PMH also includes storage and software to collect data and analyze it to detect patterns. The rules for triggering alerts and notifications can be upgraded even after the device is purchased. One possible use for the PMH is shown in the IBM mHealth toolkit, developed by researchers in IBM Zurich, that allows body worn biometric sensors to relay information to health care providers. More information about the Personal Mobile Hub is available in the following publication.
Personal Mobile Hub, Dirk Husemann, Chandra Narayanaswami, Michael Nidd, Proc of 8th Intl Symposium on Wearable Computers (ISWC) 2004, pp. 85-91.