<! -- ========================== GROUP NAME ========================== ->
links
<! -- ========================== GROUP PEOPLE ========================== -> <! -- ========================== GROUP PAGES/TABS ========================== ->
Physics - overview
<! -- ========================== PAGE CONTENT ========================== ->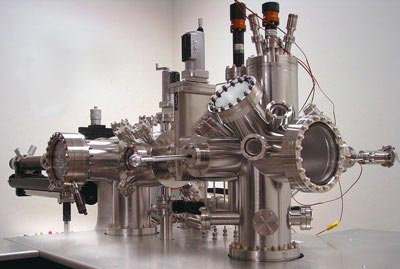 IBM Research has been home to numerous physicists who have produced seminal advances in many disciplines and fields of study. Innovations discovered and developed here include: Dynamic Random Access Memory (DRAM), field effect transistor scaling laws, semiconductor super lattice structures, specialized lasers and thin film magnetic recording heads, as well as advances in optical communications and electron microscopy.

Five IBM physicists have received the Nobel Prize for Physics: Leo Esaki in 1973 for his work in semiconductors; Gerd Bining and Heinrich Rohrer in 1986 for the scanning tunneling microscope; and Georg Bednorz and Alex Mueller in 1987 for research in superconductivity.

1947: Magnetic Core Memory
1958: Quantum Tunnelling
1960: Thin Film Heads
1966: Tunable Lasers
1967: Josephson Junctions
1968: DRAM - 1 Transistor RAM
1974: Dennard Scaling (aka Why Moore's Law also speeds up transistors in Lay Terms)
1978: Scanning Tunneling Microscope (1986 Nobel Prize Winner)
1983: High Temperature Superconductors (1987 Nobel Prize Winner)
1990: Moving Atoms
1991: RFID
1993: Quantum Teleportation
1998: Copper Interconnect
2007: High-K Gate Dieletric
2008: Racetrack Memory
2008: Cooling 3D Chips

20??: Non-Planar Devices

2013: Millimeter Wave
List of prominent IBM physicists at the American Institute of Physicists.
Image credit: Scanning tunneling microscope IBM
BACK TO IBM RESEARCH ACCOMPLISHMENTS