<! -- ========================== GROUP NAME ========================== ->
links
<! -- ========================== GROUP PEOPLE ========================== -> <! -- ========================== GROUP PAGES/TABS ========================== ->
High Temperature Superconductors (1987 Nobel Prize Winner) - overview
<! -- ========================== PAGE CONTENT ========================== ->
Physics Accomplishment | 1983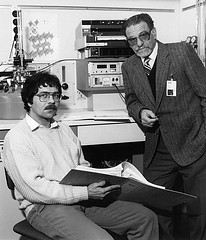 IBM researchers: Georg Bednorz and K. Alex Müller

Where the work was done: IBM Zurich Research Lab

What we accomplished: Bednorz (left) and Müller (right) discovered superconductors of electricity at temperatures far above absolute zero (-273 degrees Celsius / -459 degrees Fahrenheit). This discovery enabled the use of superconductors for many more applications and at lower cost, although the actual temperatures are still quite low, e.g. -200 degrees Fahrenheit, and require liquid nitrogen for cooling. Liquid nitrogen, however, is relatively common for industrial uses. Far more exotic techniques were needed for traditional semiconductors.
Related links: 1987 Nobel Prize Press Release
Image credit: A Smarter Planet Blog. IBM Fellows and Nobel Laureates, J. Georg Bednorz (left) and K. Alex Müller (right) in 1986.
BACK TO PHYSICS
BACK TO IBM RESEARCH ACCOMPLISHMENTS