<! -- ========================== GROUP NAME ========================== ->
links
<! -- ========================== GROUP PEOPLE ========================== -> <! -- ========================== GROUP PAGES/TABS ========================== ->
High-Speed Silicon-Germanium Electronics - overview
<! -- ========================== PAGE CONTENT ========================== ->
Physics Accomplishment | 1994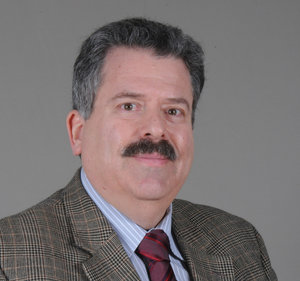 IBM researcher: Bernard S. Meyerson

Where the work was done: IBM T.J. Watson Research Center
What we accomplished: Meyerson (pictured) and his IBM team created electronic devices that outperform traditional silicon technology yet remain compatible with standard manufacturing methods.
Related links: Si/SiGe Epitaxial-Base Transistors (Part I): Materials, Physics and Circuits (IEEE Electron Devices, March 1995.

Silicon-Germanium Heterojunction Bipolar Transistors: From Experiment to Technology, International Journal of High Speed Electronics and Systems, September 1994.
Extremely High Electron Mobility in Si/SiGe Modulation-Doped Heterostructures, Applied Physics Letters, December 1994.
UHVCVD Growth of Si/SiGe Heterostructures and Their Applications, Semiconductor Science and Technology, September 1994.
Image credit: IBM
BACK TO PHYSICS
BACK TO IBM RESEARCH ACCOMPLISHMENTS