<! -- ========================== GROUP NAME ========================== ->
links
<! -- ========================== GROUP PEOPLE ========================== -> <! -- ========================== GROUP PAGES/TABS ========================== ->
Millimeter Wave - overview
<! -- ========================== PAGE CONTENT ========================== ->
Physics Accomplishment | 2006 - 2015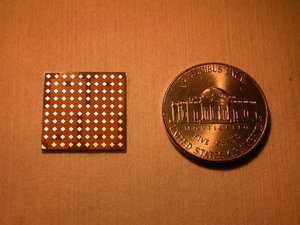 IBM researcher: TBD
Where the work was done: IBM T.J. Watson Research Center, IBM Haifa Research Lab, IBM Zurich Research Lab
What we accomplished: Development of key technologies used in radar, wireless and backhaul communications, and imaging in airport scanners. Key contributions:
60GHz and 94GHz SiGe Phased Array Chipset with Embedded Antennas on Package.

60GHz CMOS Switch-beam TRx Module.

77GHz SiGe Chipset.
Related links: 2013 IBM Press Release, 2015 IBM Systems Magazine.

Image credit: Gigaom
BACK TO PHYSICS
BACK TO IBM RESEARCH ACCOMPLISHMENTS