<! -- ========================== GROUP NAME ========================== ->
links
<! -- ========================== GROUP PEOPLE ========================== -> <! -- ========================== GROUP PAGES/TABS ========================== ->
AP-101 Space Shuttle Computers - overview
<! -- ========================== PAGE CONTENT ========================== ->
Other Accomplishment | 1966 - 1992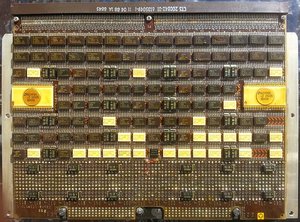 IBM researchers: TBD
Where the work was done: TBD
What we accomplished: IBM produced the avionics computer used to control the Space Shuttle and a variety of other aircraft.
Adapted from writeups by NASA and Wikipedia: The AP-101 was a derivative of the 4Pi introduced by IBM in 1966. It used the basic instruction set architecture from IBM's mainframe System/360. The AP-101 processed 480,000 instructions per second. Five AP-101s were installed aboard each shuttle. The AP-101 was also used in a broad set of US military aircraft, including the B-52 and B-1 bombers and the F-15 fighter.
Related links: NASA Writeup; Wikipedia entry

BACK TO IBM RESEARCH ACCOMPLISHMENTS
Image credit: By Michael L. Umbricht - Own work, CC BY-SA 3.0.