<! -- ========================== GROUP NAME ========================== ->
links
<! -- ========================== GROUP PEOPLE ========================== -> <! -- ========================== GROUP PAGES/TABS ========================== ->
Natural Language Processing PIC at IBM Research AI - QASP_Workshop
<! -- ========================== PAGE CONTENT ========================== ->
Question Answering and Semantic Parsing (QASP) Workshop
QASP is a part of the IBM AI Research Week.
Registration Link:
Call for Posters:
Machine Reading and Question Answering (MRQA) is an important research topic for evaluating how well AI systems understand natural language, and also very critical for industry applications such as search engines and speech and dialogue systems. In a typical MRQA setup, a system must answer a question by reading one or more context documents. Successful MRQA systems must understand a wide range of natural language situations, and a wide variety of question and document types. A lot of research has spread around the Stanford QA dataset (SQuAD) and recently the Google Natural Questions challenge.
Meanwhile, semantic parsers like AMR and SRL (Semantic Role Labeling) map sentences to formal representations of their underlying meaning. Recently, algorithms have been developed to learn to recover increasingly expressive representations with ever weaker forms of supervision. These advances have enabled many applications, including question answering, relation extraction etc.
This workshop aims to achieve two goals. First, to bring together researchers (university and industry) in the field to discuss the state of the art and opportunities for future research. Second, to create a stage for presenting the variety of current approaches, thereby providing a unique opportunity for new entrants to the field.
We welcome posters showing novel ideas in:
Novel techniques in QA
Techniques in QA using SP
Novel techniques in SP
Techniques in SP helping other NLP applications

Submission method:
Please email your posters title and extended abstract (no more than 500 words) to: avi@us.ibm.com
Deadline: Sep 10th, 2019

Invited Speakers:
1.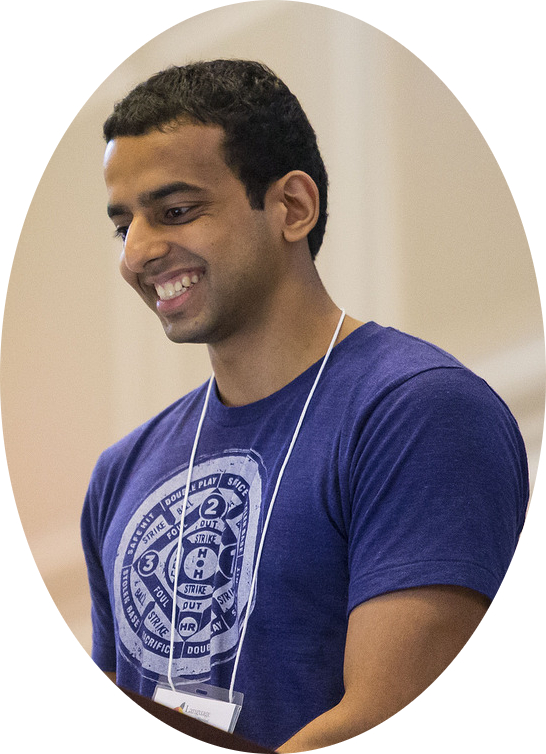 Mohit Iyyer (UMass, Amherst) 2.
Nianwen Xue (Brandeis University)


3.
Niranjan Balasubramanian (Stony Brook University) 4.
Lu Wang (Northeastern University)
5.
Salim Roukos (IBM Research AI)

Organizers:
Avi Sil (Chair, NLP PIC and Team Lead, Question Answering, IBM Research AI)
Yunyao Li (Sr. Manager, Scalable Knowledge Intelligence Group, IBM Research AI)
Radu Florian (Sr. Manager, NLP Group, IBM Research AI)
Important Dates:
Call for Posters: Aug 12th, 2019
Poster submission deadline: Sep 10th, 2019
Notification of acceptance: Sep 15th, 2019
Workshop date: September 20th (Friday), 2019
Details:
Date
Friday, 9/20
Time
09:00 AM - 04:30 PM
Location
The MIT Samberg Conference Center
Workshop Schedule:
8.50 - 9.00 : Opening Remarks


9.00 - 9.50: Invited Talk - Salim Roukos
Talk Title: Overview of IBM's effort on QA and AMR parsing

9.50 - 10.40 : Invited Talk - Mohit Iyyer
Talk Title: Contextual question answering and generation


10.40 - 11.10 : Posters and Coffee


11.10 - 12.00 : Invited Talk - Lu Wang
Talk Title: Semantic-Driven Text Summarization and Generation


12.00 - 1.30 : Lunch


1.30 - 2.20: Invited talk - Nianwen Xu
Talk Title: Developing a Uniform Meaning Representation for Natural Language Processing


2.20 - 3.10 : Invited talk - Niranjan Balasubramanian
Talk Title: Multi-hop Reasoning in Text-based QA


3.10 - 3.40 : Panel


3.40 - 4.20 : Posters and Coffee


4.20 - 4.30 : Best poster award
Accepted Posters:
Pruning a BERT-based QA system
Scott McCarley


Knowledge graph construction via AMR subgraph classification: An evaluation
Alex Lưu, Yu Xing, Nianwen Xue
Information-Theoretic Evaluation of Question Generation for QA
Arafat Sultan
Improving Transition-based Parsing of AMR
Austin Blodgett, Miguel Ballesteros, Ramon Austudillo, Tahira Naseem, Young-suk Lee


Rewarding Smatch: Transition-Based AMR Parsing with Reinforcement Learning
Tahira Naseem, Abhishek Shah, Hui Wan, Radu Florian, Salim Roukos, Miguel Ballesteros


Lingua Franca Named Entity Recognition
Parul Awasthy


Generating Hypothetical Questions
Pardis Malekzadeh, Mohit Iyyer


Generating Question-Answer Hierarchies
Kalpesh Krishna and Mohit Iyyer
Question Answering Model Generalization using Paraphrase Information
Bhanu Pratap Singh and Preethi Raghavan


Advancing Seq2seq Models with Joint Paraphrase Learning
So Yeon (Tiffany) Min, Preethi Raghavan, Peter Szolovits


Learning Unsupervised Representations for Semi-Structured Tables
Dung Thai and Mohit Iyyer


Natural Question Answering
Lin Pan, Rishav Chakravarti, Anthony Ferritto, Michael Glass, Alfio Gliozzo, Salim Roukos, Radu Florian, Avirup Sil


From Boolean Questions to Multi-task learning-base Natural Language Understanding
Xinyu Hua, Radu Florian and Avirup Sil


Towards Universal Semantic Understanding of Natural Languages
Huaiyu Zhu, Yunyao Li and Siddhartha Brahma
Program Committee:
Ramon Austodillo
Arafat Sultan
Young Suk-Lee
Vittorio Castelli
Rishav Chakravarti
Anthony Ferritto
Lin Pan
Yunyao Li
Huaiyu Zhu
Siddhartha Brahma