Mark I and Mark II Automatic Language Translators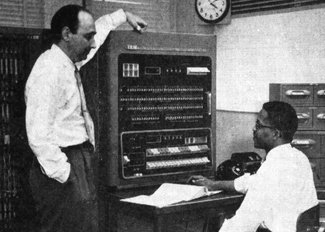 Artificial Intelligence Accomplishment | 1954-1962

IBM researcher: Gilbert King

Where the work was done: IBM T.J. Watson Research Center
What we accomplished: Automatic translators from Russian to English, starting with a 250-word vocabulary and an ability to translate organic chemistry texts in the 1954 Georgetown-IBM experiment. By the early 1960s, the Mark II had a 170,000-word vocabulary and could cover a wide domain.
Related links: Wikipedia Article; Gilbert W. King and the IBM-USAF Translator
Image credit: NOAA. Image features IBM 701 computer. Gilbert King is not pictured.
BACK TO ARTIFICIAL INTELLIGENCE
BACK TO IBM RESEARCH ACCOMPLISHMENTS