BlueGene Energy Efficient Supercomputing
Machine Organization Accomplishment | 2004 - 2012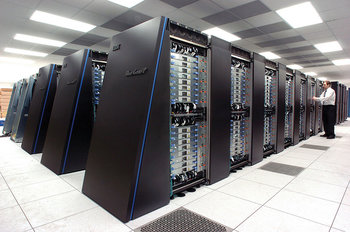 IBM researcher: Alan Gara, Paul Coteus
Where the work was done: IBM T.J. Watson Research Center
What we accomplished: IBM pioneered the use of many, low-power processors to achieve maximum performance on Linpack and other scientific computing problems.
Related links: BlueGene/L, BlueGene/P, and BlueGene/Q all topped the Top500, Green500, and Graph500 for best performance, most efficient performance, and best performance on problems with very large data. Bluegene won the National Medal of Technology in 2009.
Image credit: By Argonne National Laboratory's Flickr page. Originally posted to Flickr as Blue Gene / PFrom Argonne National LaboratoryUploaded using F2ComButton, CC BY-SA 2.0.

BACK TO IBM RESEARCH ACCOMPLISHMENTS