High-K Gate Dielectric
Physics Accomplishment | 2007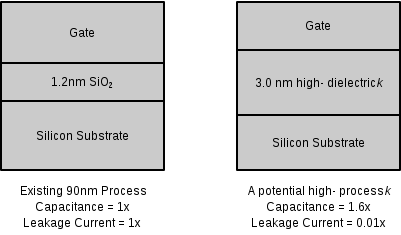 IBM researcher: TBD

Where the work was done: IBM T.J. Watson Research Center
What we accomplished: A "High K Gate Dielectric" essentially means a transistor gate with high electrical resistance. (Field effects transistors have three parts -- a source, a drain, and a gate that controls current flow between the source and drain -- and in a digital circuit essentially determines whether the transistor conducts or not, i.e. whether it is on or off. Turning on and off quickly in turn allows the computer to run faster.) High K reduces leakage current, which is a major source of (wasted) power consumption in modern CMOS processors.
Related links: Wikipedia Page

Image credit: By Anoopm at the English language Wikipedia, CC BY-SA 3.0.
BACK TO PHYSICS
BACK TO IBM RESEARCH ACCOMPLISHMENTS