Racetrack Memory
Physics Accomplishment | 2008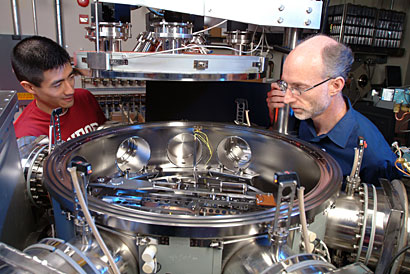 IBM researcher: Stuart Parkin

Where the work was done: IBM Almaden Research Center
What we accomplished: Adapted from Wikipedia: Racetrack memory or domain-wall memory (DWM) is an experimental non-volatile memory device under development at IBM's Almaden Research Center by a team led by physicist Stuart Parkin.In early 2008, a 3-bit version was successfully demonstrated.If it were to be developed successfully, racetrack would offer storage density higher than comparable solid-state memory devices, such as flash memory and similar to conventional disk drives, with higher read/write performance.
Related links: Wikipedia; Magnetoelectronics and Spintronics & SpinAps (IBM-Stanford Spintronic Science and Applications Center)

Image credit: Stanford University. Stuart Parkin, right.

BACK TO PHYSICS
BACK TO IBM RESEARCH ACCOMPLISHMENTS