Jikes RVM
Programming Languages Accomplishment | 2001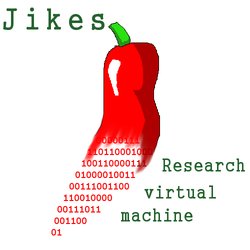 IBM researchers: Vivek Sarkar, David F. Bacon, David P. Grove
Where the work was done: IBM T.J. Watson Research Center
What we accomplished: Jikes is an open Java JVM that has enabled researchers from dozens of institutions to make rapid progress. RVM = Research Virtual Machine.
Related links: Jikes Website
Excerpted from Jikes FAQ: In 2001, early versions of Jikes RVM were made available to 16 universities under a pre-release license. These universities found that Jikes RVM provides the best available vehicle for research on the frontiers of virtual machine technology. Many of these universities discarded their own efforts in building a VM for research purposes in favor of using Jikes RVM. Furthermore, since the open source release of Jikes RVM in October 2001, dozens of publications have appeared at top conferences written by users of the system. Numerous courses have been taught using Jikes RVM. Over 80 universities have used Jikes RVM.
Image credit: blog.gmane.org
BACK TO PROGRAMMING LANGUAGES
BACK TO IBM RESEARCH ACCOMPLISHMENTS