contact information
Principal Research Staff Member - AI EngineeringThomas J. Watson Research Center, Yorktown Heights, NY USA +1
914
945
2112
links
profile
What am I up to in 2021
honored to be recognized as IBM Honoree for 2021/ best of IBM, a prestigious award and one of the highest recognition given by IBM to its top performers.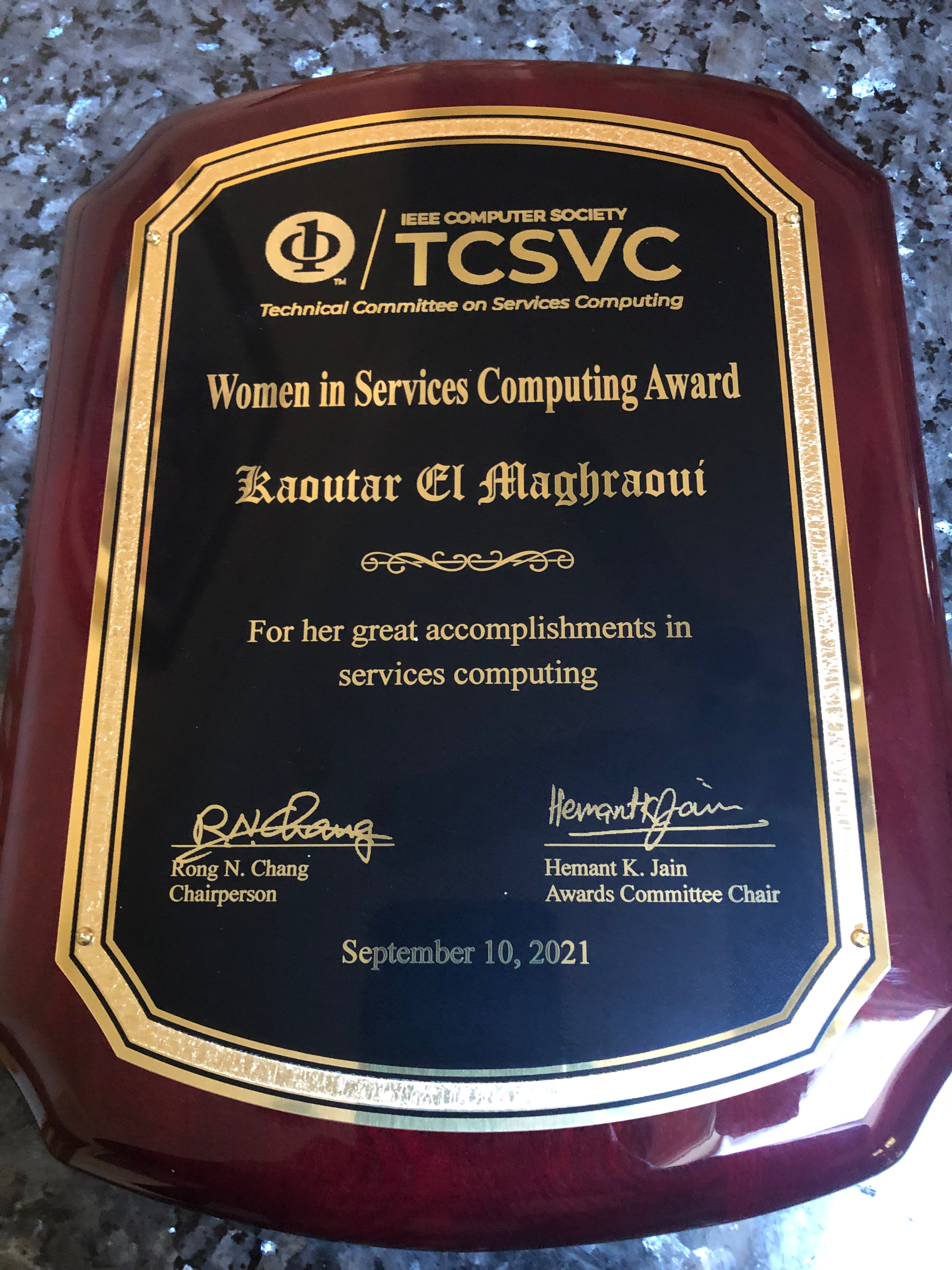 Checkout our Analog AI Hardware Kit open source project

Check our work from IBM Research around Analog AI. Very exciting technology that uses in memory computing leveraging a long forgotten technique to make AI faster and more energy efficient (Analog technology).
Better yet, our compower cloud application is a front end no-code experience in the cloud that allows you to run simulations in the IBM cloud for free

There is also an open source project associated with this. Please check it out at:

https://github.com/IBM/aihwkit

I presented, with my colleague Malte J Rasch, our work around Analog AI Hardware kit at ICML 2021
I am serving as the general co-chair of the 7th international conference or Arab Women in Computing, Sharjah, UAE.
Check out my invited talk at
---
Dr. Kaoutar El Maghraoui is a principal research scientist at the IBM Research AI organization where she is focusing on innovations at the intersection of systems and artificial intelligence. She leads the End-Use experimental AI testbed of the IBM Research AI Hardware Center, a global research hub focusing on enabling next-generation chips and systems for AI workloads. She is currently focusing on the operationalization aspects of AI systems in hybrid cloud environments. Kaoutar has extensive experience and deep expertise in HPC, systems software, Cloud computing and machine learning.
Kaoutar co-led IBM's Global Technology Outlook in 2017 where she worked on creating IBM's vision for the future of IT across global labs and business units focusing on IBM's AI leadership. Prior to that, she was a member of the scalable systems groups, where she has conducted research on several aspects of the AIX operating system such as performance, multi-thread and multi-core scheduling, Flash SSD storage, OS crash diagnosis and recovery, interactions with systems architecture, and applying analytics techniques for OS problem diagnosis. She led a research project to apply IBM Watson's cognitive technology to systems problem diagnosis and resolution for the POWER platform. Her primary research interests are cloud computing, operating systems, high-performance computing, distributed systems, and analytics.
Kaoutar obtained a PhD degree in Computer Science in 2007 from Rensselaer Polytechnic Institute (RPI), Troy, New York and a Masters degree in Computer Networks in 2001 from Al Akhawayn University, Morocco. She was a lecturer of Computer Science in the School of Science and Engineering at Al Akhawayn University in 2001 and 2002. Kaoutar has received several fellowships and awards including the American Association of University Women fellowship, the Robert McNaughton Award for best thesis in computer science at RPI, IBM's Eminence and Excellence award for leadership in increasing Women's presence in science and technology, and IBM's Tier II award for contributions to the foundational POWER software technologies and promoting these systems in Africa. She is a member of ACM, IEEE Computer Society, and the Society of Women Engineers. Kaoutar has co-authored several conference and journal publications in the areas of systems research, distributed systems and high performance computing. She has served in many technical conferences as co-chair, member of the program committee, and reviewer.
Dr. Kaoutar El-Maghraoui is co-chair of the Arab Women in Computing (ArabWIC) Anita Borg Institute Systers' community and co-chair of IBM Research Watson Women's Network. She is very passionate about mentoring, promoting, and increasing the participation of women in STEM and computing fields. She has been an active member of the leadership team of the Grace Hopper Conference (GHC), the world's largest conference of women in computing. Under her leadership, she helped put together the most International poster/career track committees the conference has ever had. She has served as the program Co-Chair of GHC in 2015 and is currently serving as the general Co-Chair of GHC in 2016.
---
Older News
I have joined the AI Engineering department part of IBM Research AI organization in 2018 after my GTO assignment.
In 2017, I will be on a 14 months assignment working as the Global Technology Outlook (GTO 2018) co-lead. The GTO is IBM Research's vision of the future of IT. It highlights emerging technology trends and distruptive game changing technologies, markets and business models.
I am serving as the program co-chair of INFLOW 2016 workshop. Check the worshop program at: https://www.usenix.org/conference/inflow16/workshop-program
I was elected as the Secretary-Treasurer for ACM SIGOPS for the term of 1 July 2015 – 30 June 2017: https://www.acm.org/sigs/elections/sigops-2015-results
I am serving as the general co-chair for Grace Hopper Conference 2016. We are expecting more than 18000 participants this year! Check out the amazing program at http://gracehopper.org/
I am serving as the co-chair for OSPIC, the OS Professional Interest Community at IBM Research.
---