<! -- ========================== GROUP NAME ========================== ->
links
<! -- ========================== GROUP PEOPLE ========================== -> <! -- ========================== GROUP PAGES/TABS ========================== ->
Collaborative AI - overview
<! -- ========================== PAGE CONTENT ========================== ->
Many problems in private or public enterprises require collaboration (cooperation, competition, or coordination) from multiple agents (human or machines) to take a decision that maximizes an overall public goal or utility while balancing each agent's individual private goals. Collaborative AI refers to viewpoint that looks beyond an individual's cognition to include goal-driven tactical, operational, and strategic interactions of individuals with others (including other non-human cognitive agents) in order to develop far superior collective intelligence through computational modeling/evaluations of such interactions/engagements among the collaborating agents. While Core AI and Secure AI (please see the figure depicting AI dimensions, below) have been two orthogonal flag-bearers of AI for last couple of decades in the enterprise world, the emergence of the third essential pillar, Collaborative AI, completes the Enterprise AI technology space.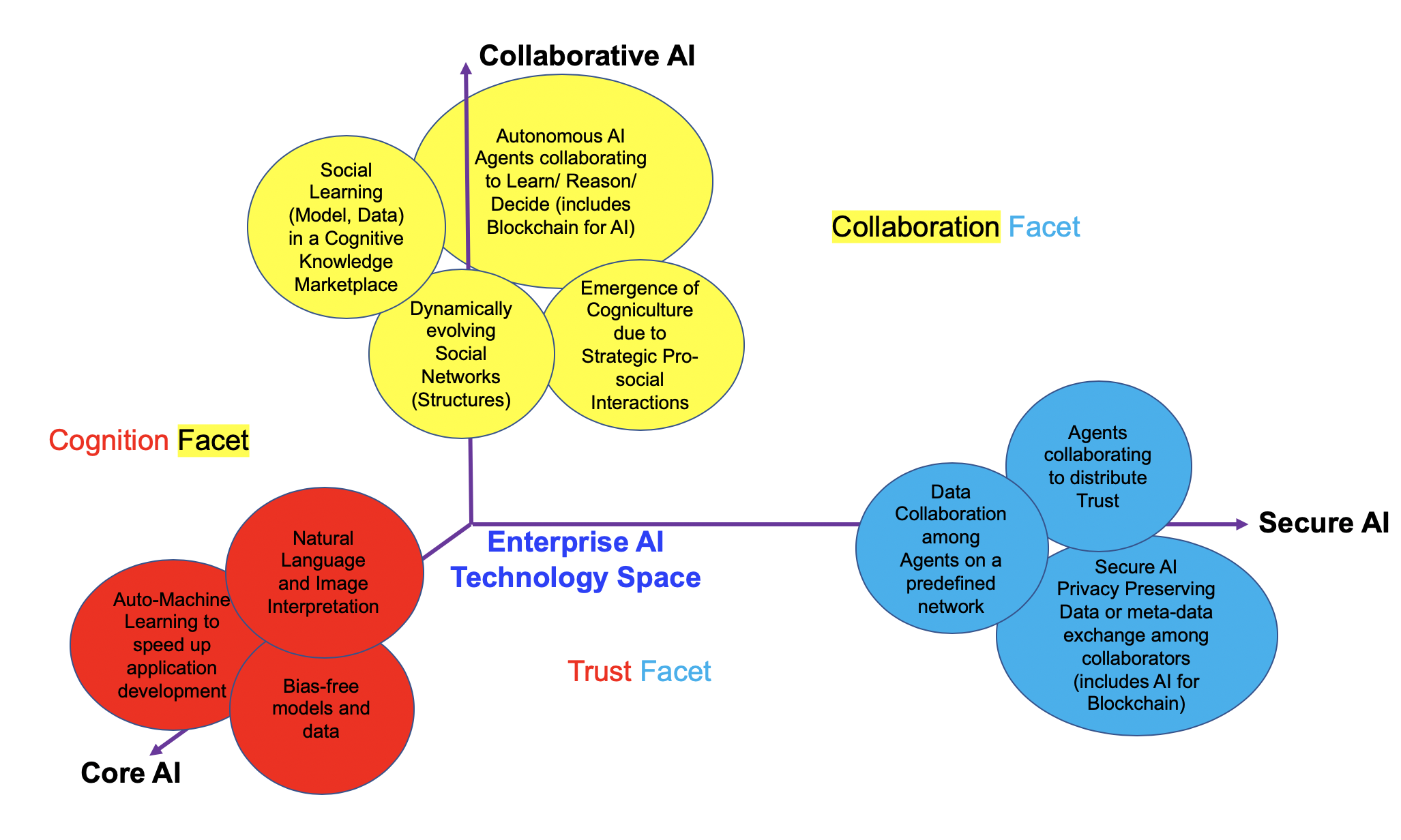 Core-AI is about basic machine learning, with recent focus on NLU, Bias-free and Fair AI, AutoML etc., Secure AI focuses on creating tamperproof AI applications, federated ML etc. Collaborative-AI, on the other hand, is about the maturing and evolution of an AI ecosystem towards a self-governed (via Cogniculture) community of Autonomous AI Agents collaborating to Learn/Reason/Decide towards the sustenance, survival and growth of the ecosystem itself. These autonomous agents have certain Core-AI functionalities that they can upgrade over time and that need to be secure (hack proof). The agents may participate in multi-agent Social Machines, necessitating secure AI capabilities. Game Theoretic constructs provide a framework to explore emergent behavior and social learning in multi-agent systems, and thus find natural coherence with Collaborative AI.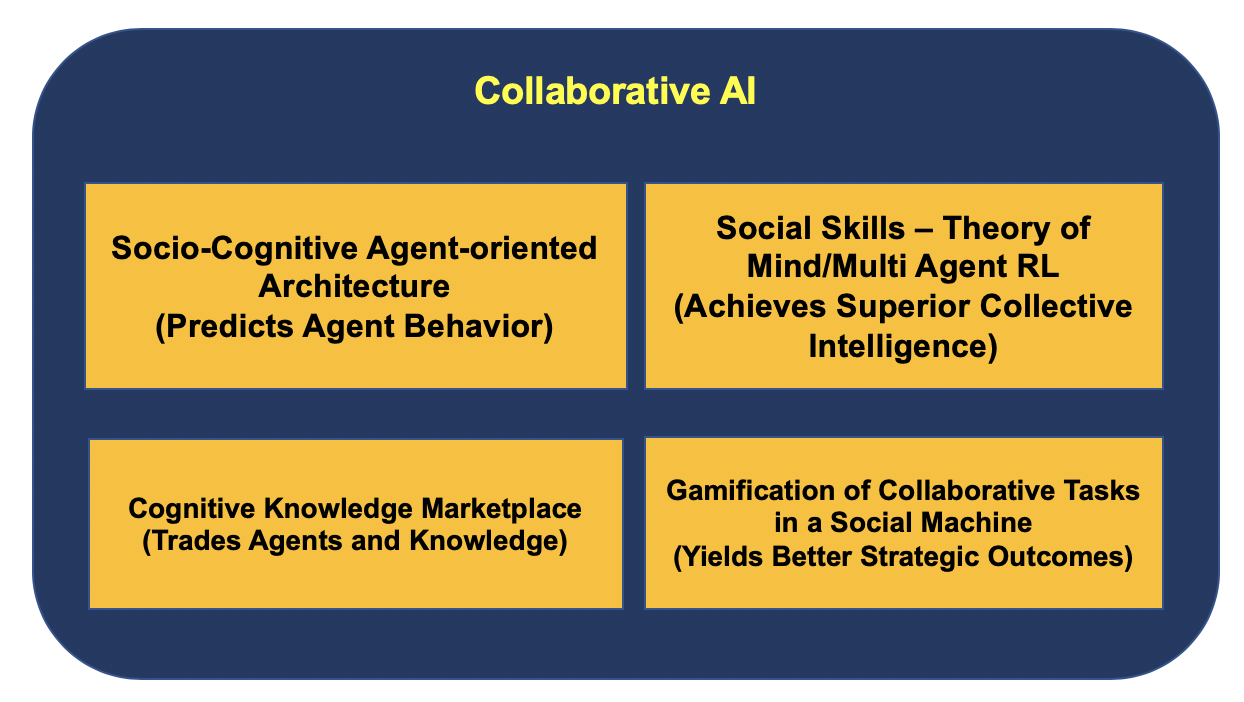 IBM's Collaborative AI framework is built on 4 pillars: (1) Intelligent and Autonomous Collab-AI Agents are organized in a Social Machine built on an Agent-oriented Architecture in which the behavior of individual agents is defined based on a Socio-cognitive Architecture; (2) Collab-AI Agents realize high-end social skills through techniques, such as Multi-Agent Reinforcement Learning (MARL) and Theory of Mind (ToM), to enable high-value collaborations with sparse knowledge exchange; (3) Collab-AI Agents and all their declarative and procedural knowledge represented and organized in a Cognitive Knowledge Marketplace (CKM) that orchestrates agents and their skills with a goal to achieve strategic sustainability via pro-social evolution; (4) Game Theory (Behavioral, Epistemic, and Evolutionary PGG paradigms specifically) provides the ability to design mechanisms for effective engagement among AI agents and human business personas, in both single and multi-enterprise settings.
Our current in-market experimentation of this innovative technology is in the domain of Intelligent Workflows for Finance and Accounting processes (e.g. Lead-to-Cash) in the Enterprise B2B space. This agenda has resulted in more than 8 papers in top-tier conferences/journals and more than 10 disclosures filed/to-be-filed in the USPTO.
Please contact Gyana Parija (gyana.parija@in.ibm.com) for more information on this agenda.
People
Current contributors
Biplab Ghosal
Sriram Vijay K11
Vaibhav Raizada
Tanu Bajpai
Qing QX Xia
Anish Jain
Ragnar Forssman
Khalid Siddiqui
Christian Toft-Nielsen
Past contributors
Manu Kuchhal
Nidhi Sagar
Ananya Stitipragyan
Desmond Cai
Pengqian Yu
Duc Thien Nguyen
Udit Sharma
Sachin Gupta
IBM Alumni
Sudhanshu Singh
Shrihari Vasudevan
Shweta Garg
Max Narayanan
Rishi Saket
Sarthak Ahuja
Manish Kataria
Monalisa Mohanty
Harit Vishwakarma
Ramasuri Narayanam
Karthik Visweswariah
Santosh Srivastava
Salil Gupte
Nidhish Pathak
Vishaal Munusamy Kabilan
Joydeep Mondal